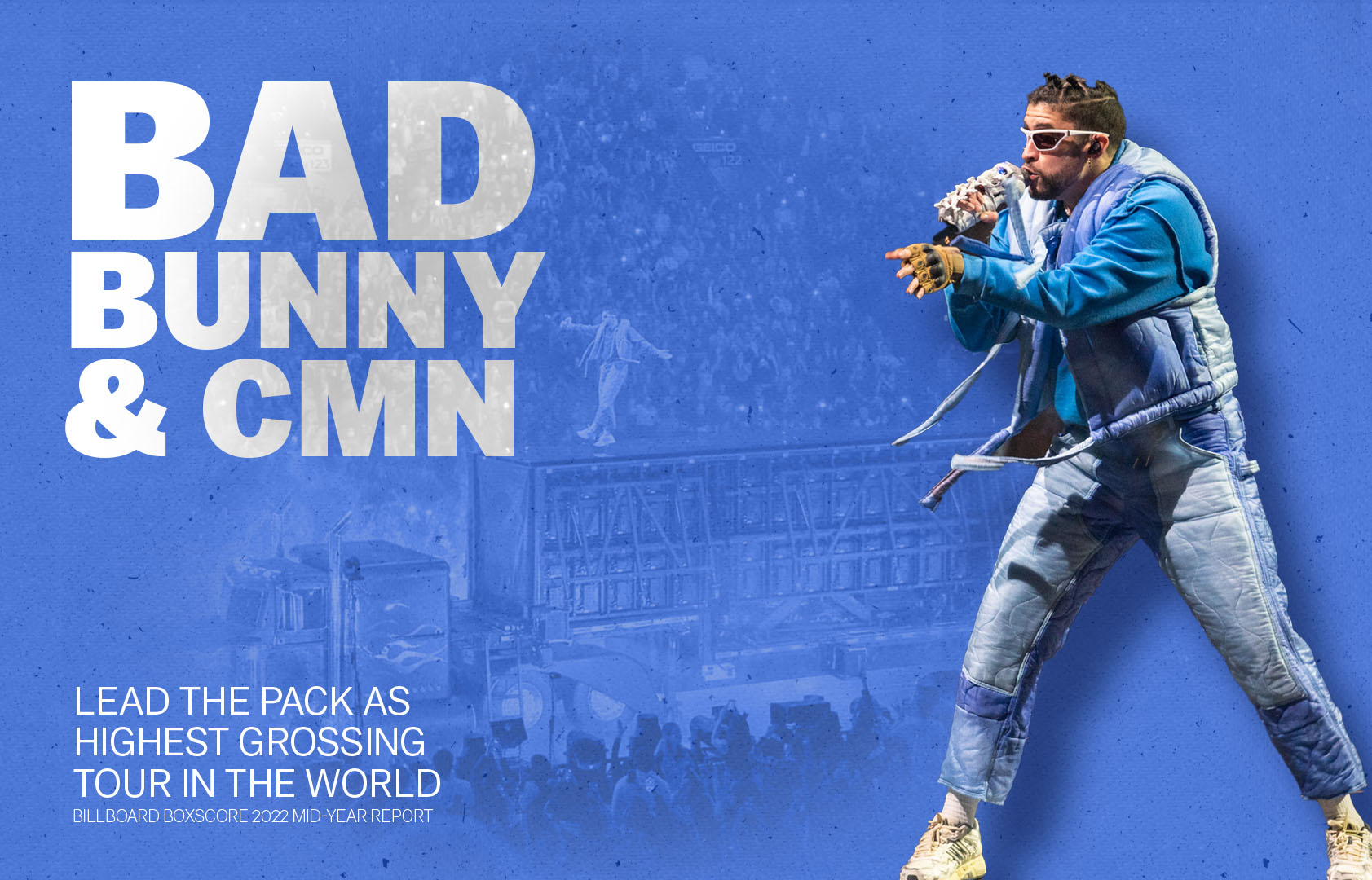 Bad Bunny's Breakout Year
The first half of 2022 shows how the concert business is becoming younger and more diverse.
THE FIRST SIX MONTHS of 2022 have lived up to the hype predicted for the concert business, fueled in large part by a more diverse, younger demographic eager to attend live shows and willing to spend more of their money on music and culture.
The leading 10 acts on the 2022 Top Tours chart grossed $722! million at the midyear point, 20% more than the top! 10 for 2019's Top Tours (the last complete year of touring prior to the pandemic), according to the 2022 Billboard Boxscore midyear charts that measure the top line of the live-entertainment industry. This year's chart shows very healthy consumer demand and attendance, despite the ongoing global presence of COVID-19 and growing concerns about waning immunity among vaccinated people.
While big-ticket goodbye tours from long-standing acts dominated the 2019 midyear chart, a new generation of younger, international names rules the 2022 report: Bad Bunny is the first Spanish-language artist to earn the No.!1 spot on the Top Tours chart. His El Último Tour del Mundo tour and two stand-alone shows in Puerto Rico grossed $123.2!million and sold 645,000 tickets to 37 concerts, according to figures reported to Boxscore — roughly $3.3!million and 17,400 tickets per night.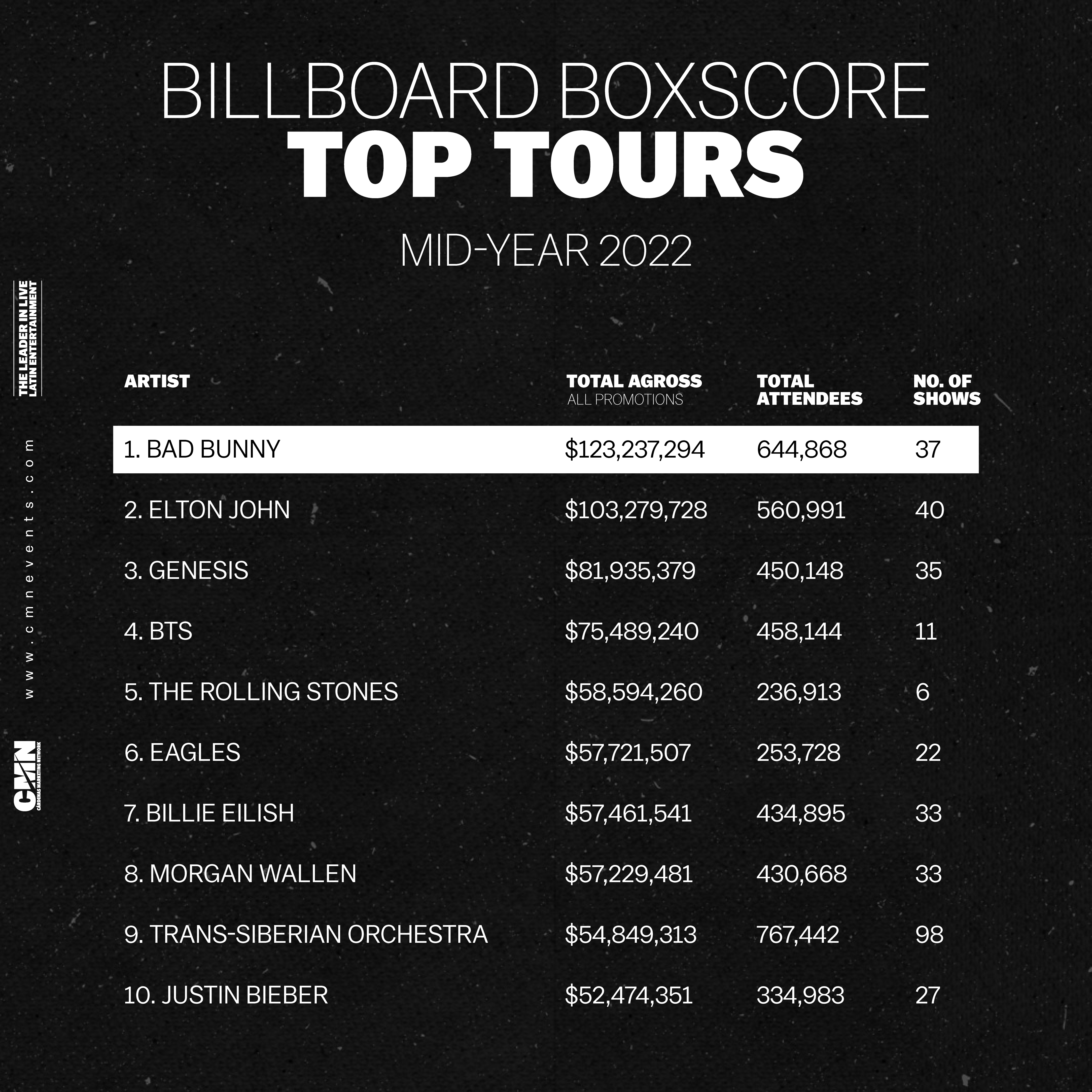 The Latin superstar isn't done, either. His 41-date Bad Bunny: World's Hottest Tour is set to begin Aug. 5 in Orlando, Fla. It will span the United States before heading to the Dominican Republic for two shows at Santo Domingo's Olympic Stadium. From there, he'll visit Santiago, Chile, and travel north through South America and Central America before closing with two nights at Estadio Azteca in Mexico City Dec. 9-10.
The stadium tour has the potential to gross between $250 million and $300 million. Combined with the $123.2 million already posted, Bad Bunny has a very strong shot at securing the top spot on Billboard's yearend Top Tours ranking.
"The demand for Bad Bunny is incredible, especially when you consider how many shows are playing stadiums in 2022," says Christy Castillo Butcher, senior vp of programming at the newly opened SoFi Stadium and Hollywood Park in Inglewood, Calif. (Bad Bunny will perform there in late September.)
SoFi Stadium also hosted BTS for four shows that generated $33.3 million — while another four at Las Vegas' Allegiant Stadium generated $35.9 million. In total, BTS has grossed $75.4 million by midyear, earning the group the No. 4 spot on Top Tours. Concurrently, BTS joins Bad Bunny to create history: 2022 marks the first time that two acts that perform in a language other than English made the top five of a midyear or year-end Top Tours chart.
Another exciting milestone in 2022: This is the first time that half of the acts on Top Tours are not yet 30 years old (Bad Bunny, BTS, Billie Eilish, Morgan Wallen and Justin Bieber) and that four of the other five acts are led by frontmen over 60. Elton John, Mick Jagger of The Rolling Stones and Don Henley from the Eagles are all over 70. Trans-Siberian Orchestra founding singer John Oliva is 62 and co-founder Al Pitrelli turns 60 in September.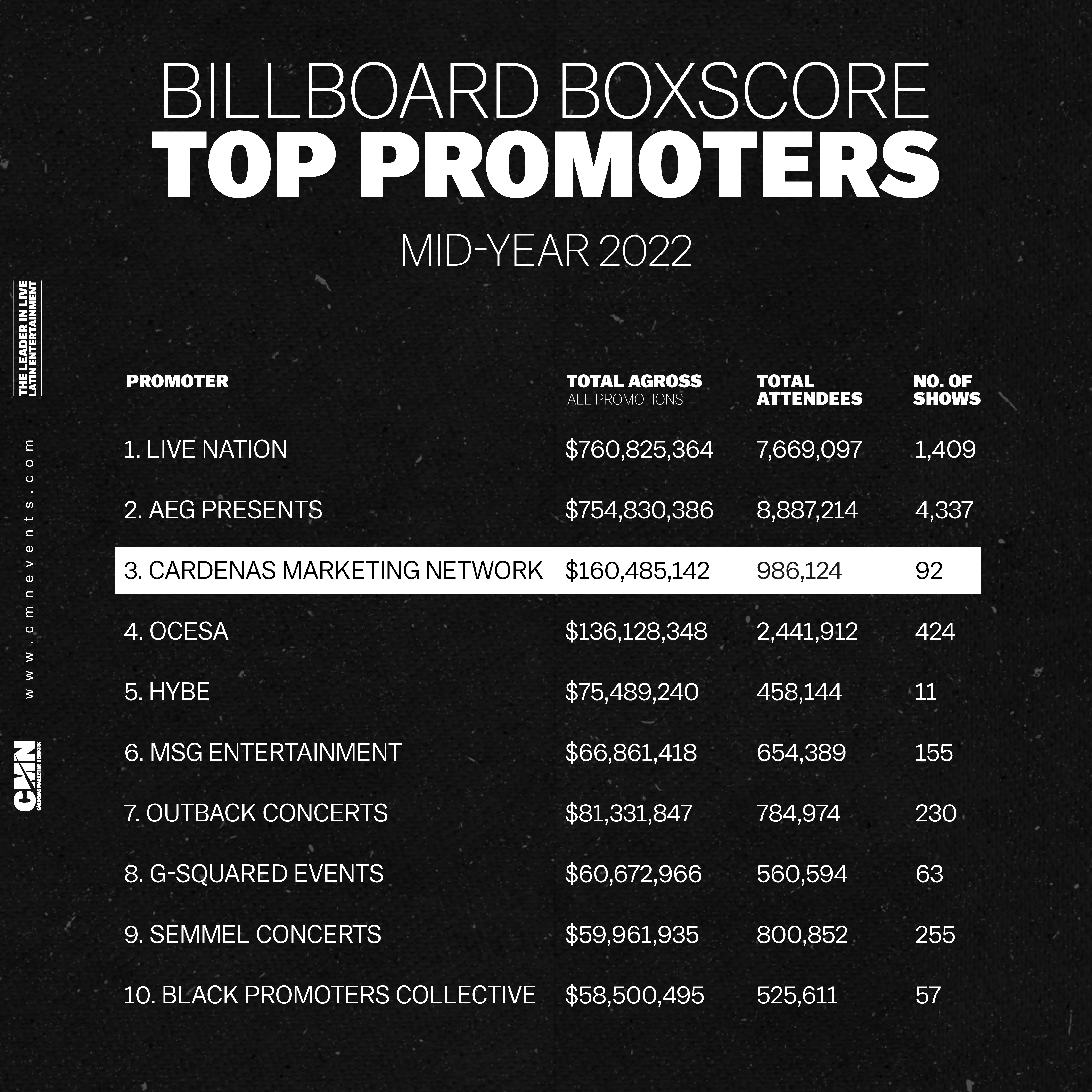 Join our newsletter and stay up to date on CMN shows