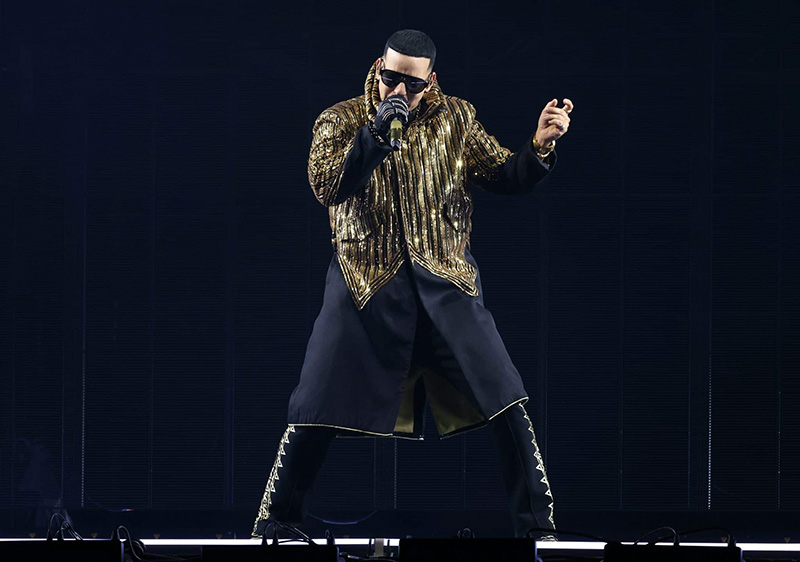 Mid-Year Top Tours: No. 8 Daddy Yankee's 'Lo Ultimo Vuelto World Tour'
September 26, 2023 | NEWS
Mid-Year Top 100 Worldwide Tours
No. 8 Daddy Yankee
Gross: S60,461,483
Average Ticket Price: S96.62
Average Tickets Sold Per Show: 27,206
Total Tickets: 625,748
Average Gross: 52,628,760
Daddy Yankee showed he has plenty of gasolina left in the tank. playing nearly 90 shows in five months in the past year for his "La Ultima Vuelta World Tour" and earning the No. 8 spot on Po//star's Nid-Year Top 100 Worldwide Tours for 2025 with a gross of nearly 560.5 million.
"We never imagined that he'd do the numbers that he did in the farewell tour." Alex Cardenas. founder and CEO of Cardenas Narketing Network who co-promoted the tour along with Raphy Pina. told Pollstar. "I've never seen that in my career. a performer doing 80-something concerts in [five months]. It's crazy, but he did it."
The Puertorriqueño's farewell run was the most lucrative of his storied three-decade career with fans coming out in droves to get one final glimpse of the King of Reggaeton. Daddy Yankee had one of the most successful showings in Pollstar's Mid-Year charts, placing third in the Top 100 Concerts with five performances at Foro Sol in Mexico City, Mexico, that grossed nearly 523.8 million off of 322,028 tickets sold.
It isn't goodbye just yet from the Latin superstar as he has yet to announce the final dates of his "Ultima Vuelta" tour, ending the trek at home where it all began for the artist.
"The reception and support [from fans] has been incredible." Daddy Yankee said. "It fills me with joy to accomplish what I imagined in my career; how I imagined it as a 'chamaquito,' an adolescent, is the same way I'm ending it: with a great closer and with my people in Puerto Rico."
The final shows in Puerto Rico were originally scheduled in January but postponed due to logistical reasons, and Cardenas is working his magic in convincing the reggaeton pioneer to add more farewell shows.
"What I explained to [Daddy Yankee] is that farewells can take two to three years," Cardenas said. "Look at Elton 3ohn
— he's been saying bye for three years because he goes everywhere. The world is too big to do in one year. We have hope that he will come back. We just pray that we get that call, but it's up to him."
Fans and the entire music industry continue to wait with bated breath for such a call, crossing their fingers for another opportunity to see the man who has earned the moniker of Legendaddy.
The annual POLLSTAR ranking of the concert industry's top performing artists is tabulated for all Iw'orIdwide shows played between 11/17/22 to S/Y7/US. All ticket sales figures are calculated in U.S. dollars and are based on reported information and extensive research by POLLSTAR.