Bad Bunny
Spring 2022 has been kind to Bad Bunny.
First the for Bullet Train — the action-comedy in which the Latin superstar makes his feature-film debut alongside Brad Pitt — debuted online. Then he won the Grammy award for best musica urbana album for El Ultimo Tour Del Mundo. And now, his tour of the same name repeats at No. 1 on Billboard's monthly Top Tours chart, setting some records along the way.
Bad Bunny rules over the Top Tours chart for March with El Ultimo Tour Del Mundo, earning $64.8 million from 337,000 tickets across 20 shows, according to figures reported to Billboard Boxscore. That makes him the first artist to ever reign over back-to-back months. And one month after claiming the second-highest monthly gross for an arena tour ($39.8 million in February), his March figures rewrite the record entirely, blasting pass Trans-Siberian Orchestra's $47 million run in December 2019.
Overall, it's the second-highest monthly total since the charts launched in March 2019. Only The Rolling Stones stand in Bad Bunny's way with their $95 million stadium sum in August 2019. Still, Bunny's March arena earnings stand above chart-topping stadiums runs by Ed Sheeran (April '19), BTS (May '19), Spice Girls (June '19) and P!nk (July '19). The gargantuan $65 million haul is more than double the gross of his next closest competitors this month.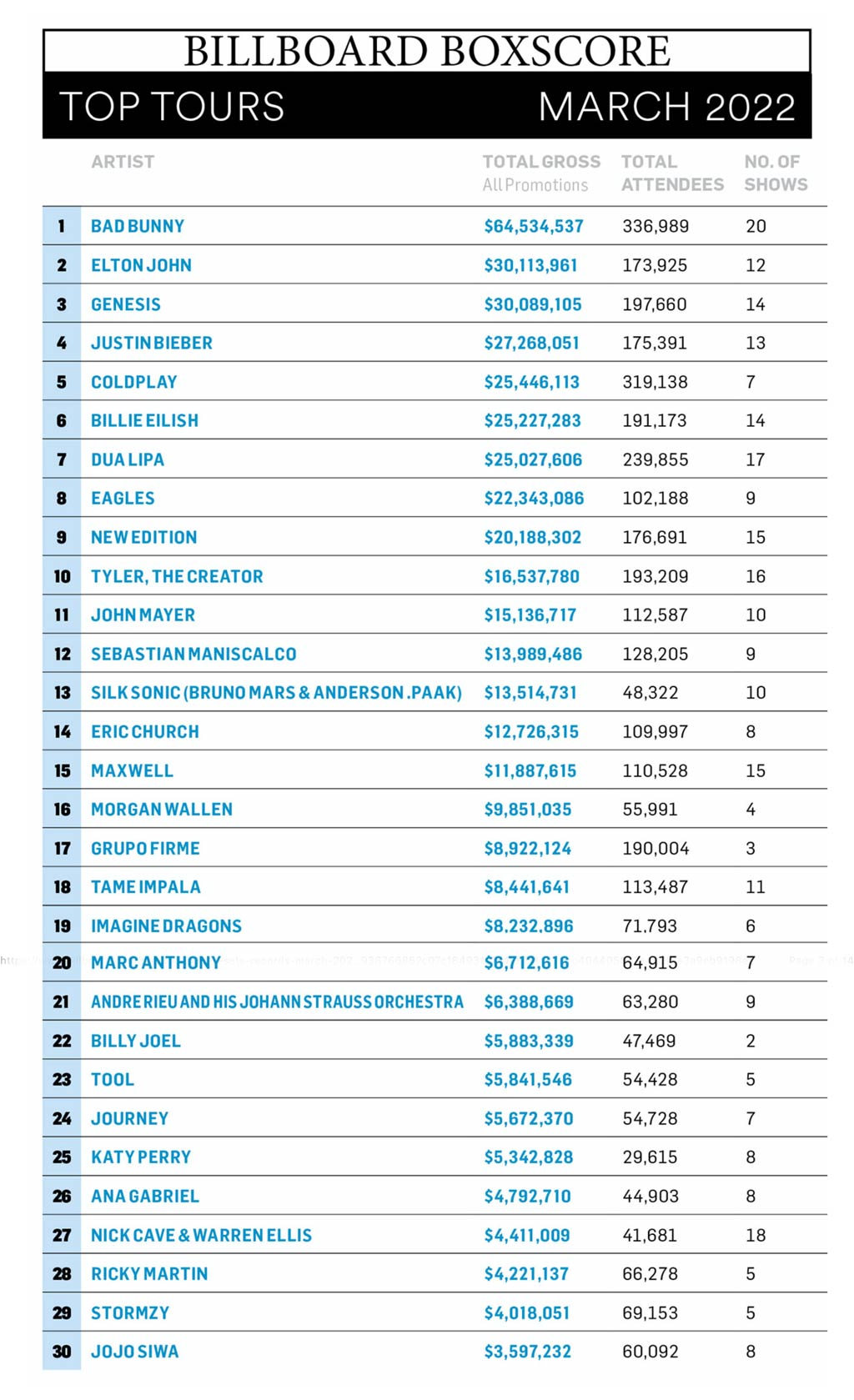 Bad Bunny's February dates in Inglewood, Calif., and Dallas, among others, set local records for per-night gross and overall earnings. In March, he continued to set regional high marks, including the three-night run at Allstate Arena in Rosemont, Ill. (20 miles outside of Chicago), which grossed $11.2 million and sold 51,400 tickets from March 10 to 12. More records were set in San Jose ($7.9 million on March 3-4), Phoenix ($3.2 million on March 6), and Orlando ($5.6 million on March 30-31). While it didn't quite reach the top, Bad Bunny's double-header at Brooklyn's Barclays Center earned $7.2 million immediately after his $3.8 million take the night before at the Prudential Center in Newark, N.J. That adds up to $11.1 million over three nights in the New York area.
These and other shows from the tour flood the Top Boxscores ranking, where Bad Bunny takes up seven spots. The Rosemont, San Jose and Brooklyn shows hit the top 10 at Nos. 2, 8 and 10, respectively.

El Ultimo Tour Del Mundo
wrapped
https://www.billboard.com/pro/bad-bunny-tour-gross-northamerica/ after two months on April 3 with $116.8 million. Its final tripleheader in Miami will likely be the run's last appearance on next month's Boxscore report before yielding to Bad Bunny's own next tour — World's Hottest Tour. His follow-up level-up to stadiums in North and Latin America aunches later this year.
A pair of classic rock legends follow Bad Bunny, with Elton John and Genesis at Nos. 2 and 3, respectively. Their $30.1 million grosses are separated by less than 1%, or $24,856. Both are farewell treks; for John, the Farewell Yellow Brick Road tour continues throughout the year, and for Genesis, The Last Domino? tour played its final show on March 23.
The stiff competition continues throughout the top 10. After Justin Bieber at No. 4 with $27.3 million, Coldplay, Billie Eilish and Dua Lipa follow at Nos. 5 through 7, all within a half million dollars of one another, ranging from $25.446 million (Coldplay) to $25.027 million (Lipa).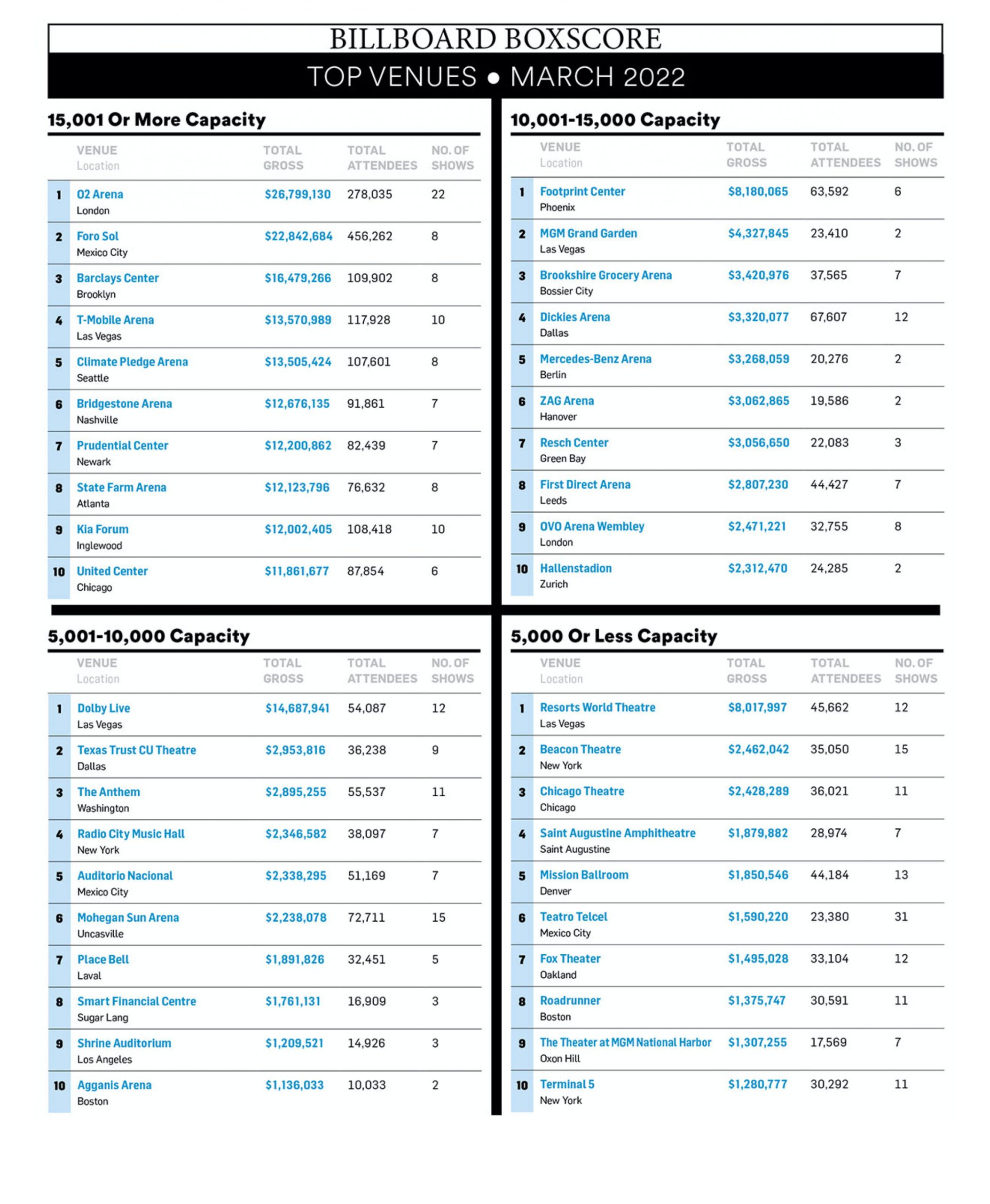 In all, nine tours grossed more than $20 million during the month of March
(the Eagles and New Edition round out the group at Nos. 8 and 9), matching the previous high set in June 2019, when the Spice Girls led a nonet of tours that included Ariana Grande, Ed Sheeran and, a surprise to no one, the evergreen Elton John. With 15 tours above the $10 million mark and 25 earning more than $5 million, March 2022 is one of the sturdiest monthly touring roundups since the series began three years ago. In March, Bad Bunny narrowly took the No. 1 spot on Top Boxscores over a Latin American festival, keeping Mexico City's Electric Daisy Carnival at No. 2. One month later, despite the record-setting overall haul, he is dethroned by Sao Paulo's Lollapalooza Brasil. The three-day event grossed $23.2 million with a weekend attendance of 267,000 over March 25-27. London's O2 Arena is the month's top-grossing venue with earnings of $26.8 million. It's the first venue outside the U.S. to take the top spot on the 15,001+ capacity chart since Mexico City's Foro Sol ruled over March 2020. Before that, you have to go back to May 2019, when the O2 itself topped the list with a slightly less massive $22 million.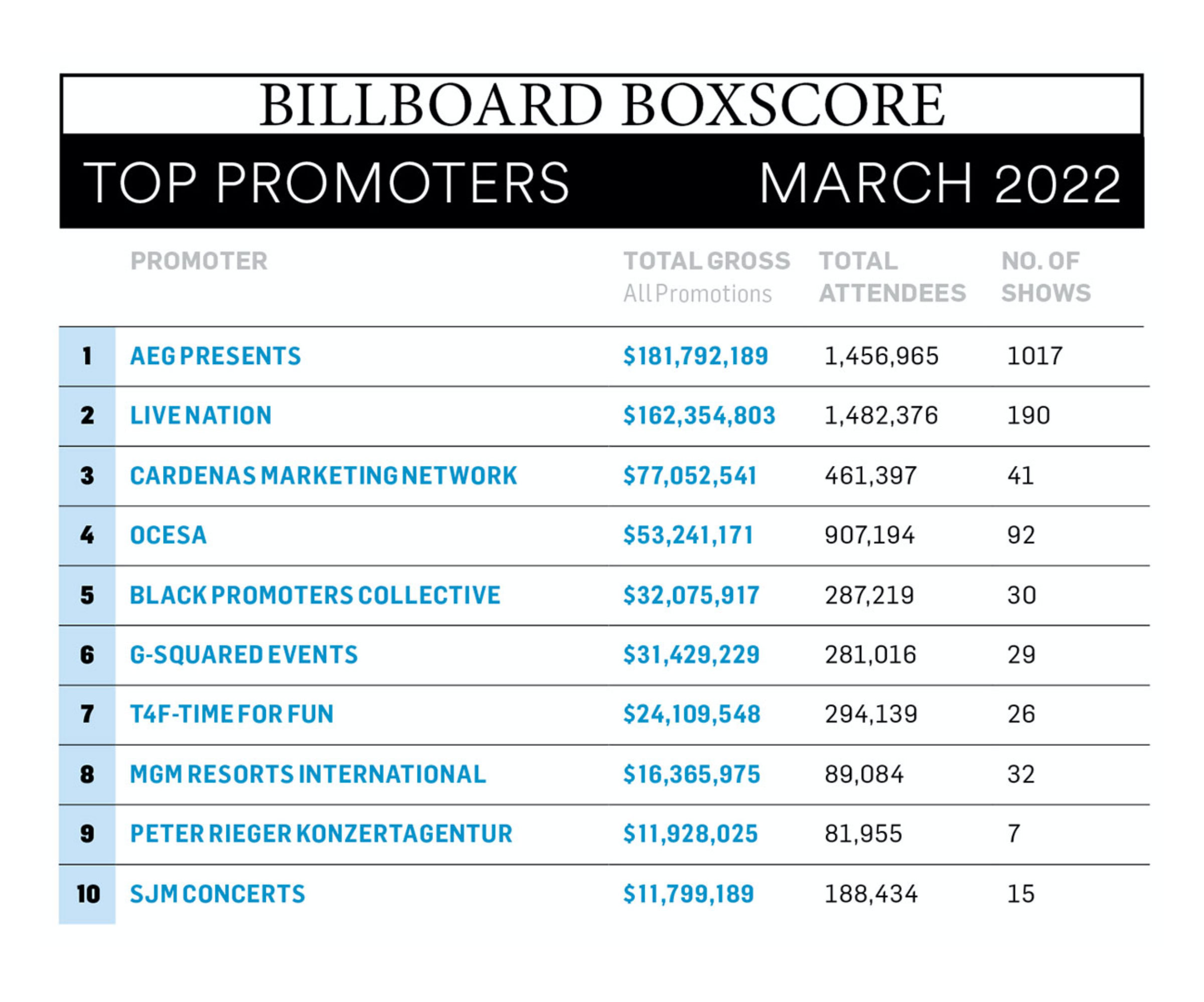 Join our newsletter and stay up to date on CMN shows